Minerva
| | |
| --- | --- |
| Animal ID: | APA-A-40541 |
| Sex: | F |
| Looks Like: | Domestic Shorthair |
| Current Weight: | 4.06 pounds |
| Date of Birth: | 2006-06-01 |
| Age: | 11 years, 3 months |
| Location: | Foster Home |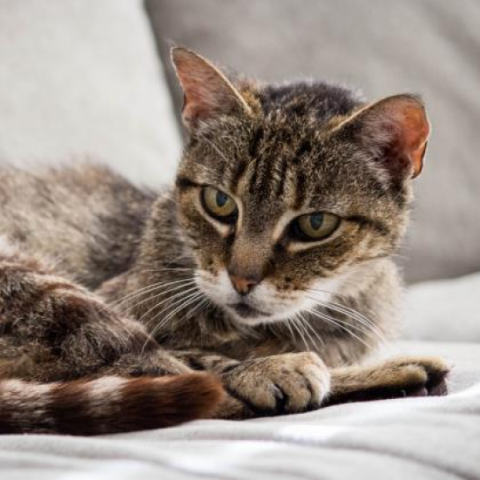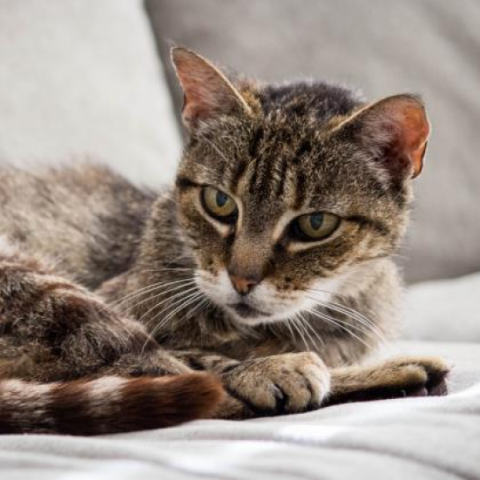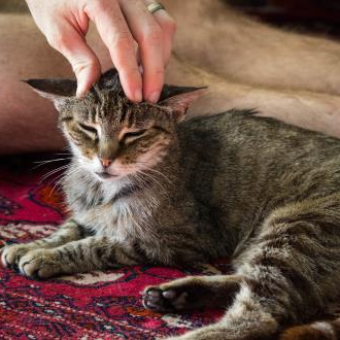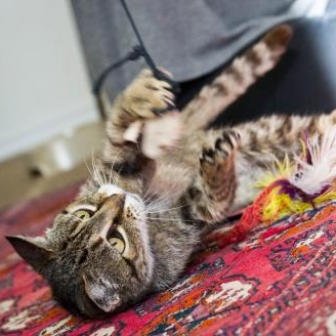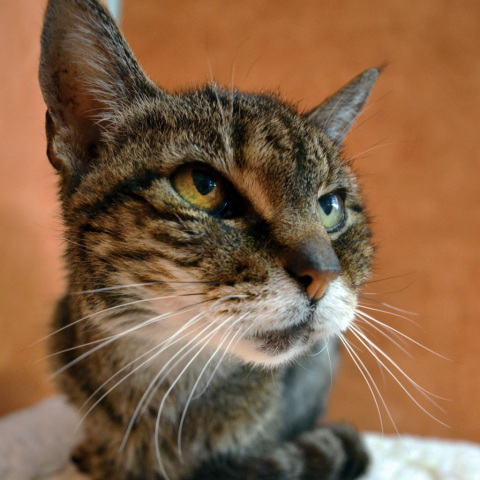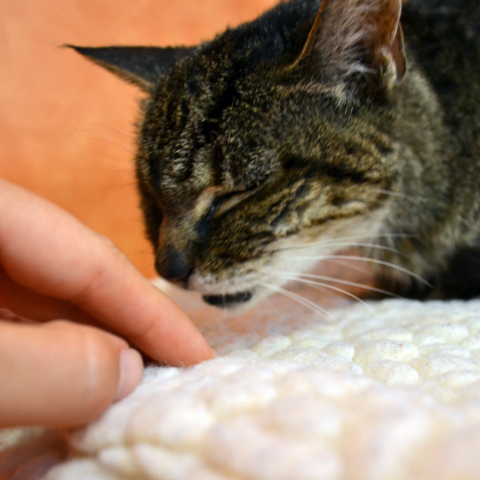 ---
---
Friendly, Calm, Easy-going

Minerva is a relaxed, friendly, and great companion who is always happy to see you! She will spend as much time as possible sitting next to you, and prefers that to sitting in your lap (though she doesn't mind being picked up). She loves pets and will even let you rub her tummy and feet. She will follow you around for attention and affection, may lick your knees or feet, and then will rub her face on them! Hint, hint: she loves you.

When Minerva is hungry or wants affection she meows or makes a cute chirping sound, but otherwise she is quiet. She is not crazy-playful, but will stalk, chase, and pounce on mouse-string toys and feather toys. So far, other toys don't hold that kind of interest for her, but you might discover other ones that do. Typically, she won't jump up to high places, but if you are eating food on a low coffee table, beware: she is not shy about trying to steal it from you!

Minerva was underweight when rescued, and though she is gaining weight, she will likely remain a petite cat. Like many people, Minerva is taking medicine for hyperthyroidism, but takes it like a champ.

She is a beautiful tabby with cute eyes ringed in black and a white chin. And she has teeny-tiny paws! She has not interacted with kids or dogs, and has kept her distance from the resident adult cat in her foster home.

The ideal home for Minerva would be with adults or teens, preferably with people who work from home or are at home much of the time; we think it wouldn't suit her to be alone all day, every day. A home with low-key pets would likely be fine, with a slow and proper introduction.

Minerva is in good health for an older kitty. She does take medicine for hyperthyroidism, we can show you how to give it to her.

In a rather unusual twist for a cat, Minerva is a very deep sleeper! She likes to have her own comfy bed to nap in when she's not keeping you company.

If Minerva sounds like the perfect doll for you, contact us today to meet her!

All APA! cats are fully vetted, spayed or neutered, and have updated vaccines and a microchip. Lifetime support is offered by our Cat Behavior Team.

For further information or to meet Minerva, please email adopt@austinpetsalive.org.