Sashay
Animal ID:
APA-A-46408
Sex:
F
Looks Like:
Domestic Shorthair
Current Weight:
8.88 pounds
Date of Birth:
2015-08-07
Age:
2 years, 1 month
Location:
TLAC
Cattery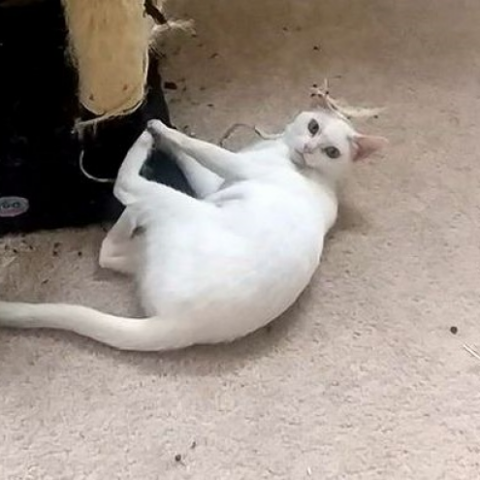 ---
---
ndependent, Shy, Mellow

Not everyone is pretty enough to strut down the runway, but true to her name, Sashay can! This gorgeous gal is a real beauty queen with her soft white coat and big hazel eyes; she's so well groomed, she's even done her eyebrows (the small gray smudges above her eyes). Sashay is a dignified kitty and while she enjoys playing, it's not with any riff-raff (aka other cats) around. If your living room was high school, she'd play singles tennis or golf. She also enjoys lounging in a cozy spot, with or without her person nearby. When Sashay decides it's time for cuddles, she'll let out a little meow to get your attention. After that, she prefers chin and hindquarters scratches and sporadically enjoys a belly rub or two.

Given Sashay's disinclination to be around other cats, she would most likely do poorly with children or dogs. Sashay would be happiest in a home where she can be the star of the show as the only pet, in a family of people who understand that sometimes stars need their space and beauty rest away from their adoring fans. Like any celebrity though, she can't resist the siren call of the limelight (namely, your lap) and will always come back for more.

All APA! cats are fully vetted, spayed or neutered, and have updated vaccines and a microchip. Lifetime support is offered by our Cat Behavior Team.

For further information or to meet Sashay, please email adopt@austinpetsalive.org.