Camille 6
| | |
| --- | --- |
| Animal ID: | APA-A-47981 |
| Sex: | F |
| Looks Like: | Domestic Shorthair |
| Current Weight: | 2.69 pounds |
| Date of Birth: | 2017-03-27 |
| Age: | 5 months |
| Location: | Foster Home |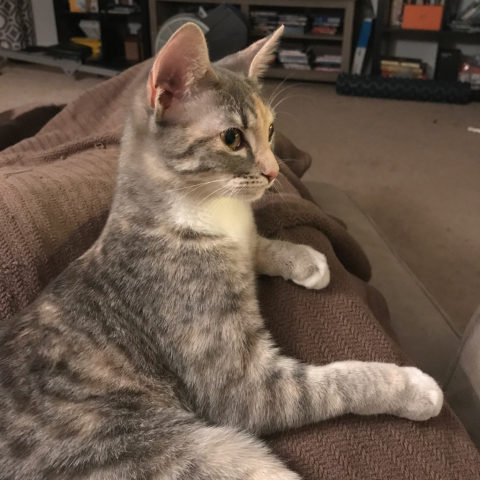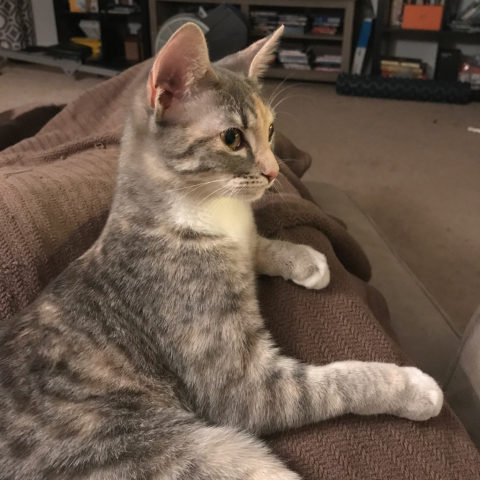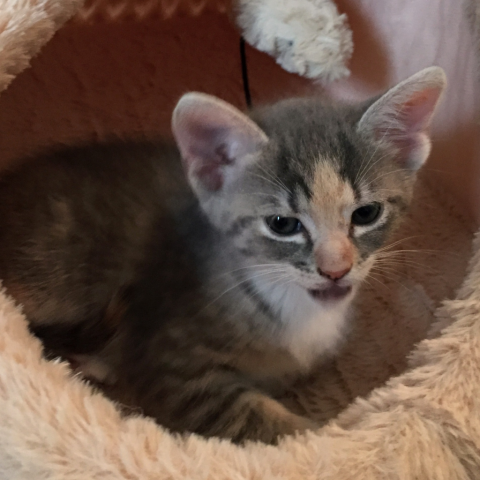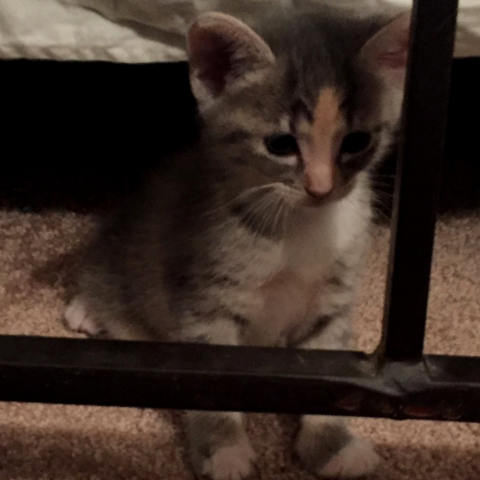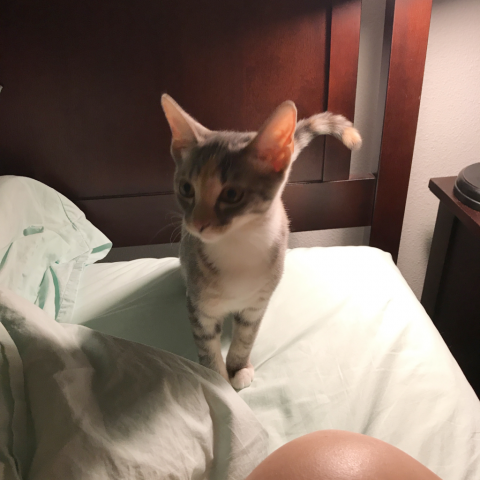 ---
---
Playful, rambunctious, sweet

Our Camille, a beautiful gray, white and salmon colored dilute tortie actually has a little something in common with the one created by Alexandre Dumas. His "Camille" was born into a lower class family, ours was born to a stray mom. His rose to become a favorite in Parisian society. Ours...well that remains to be seen.

For now, Camille enjoys her foster home, spending much of her time in rambunctious zooming back and forth upstairs. Back and forth. Back and forth. If you ask her why, she'll just look at you as if to say, "Well, if you don't get it, I can't explain it to you."

Another of Camille's favorite pastimes is climbing. If it's up, she's there. Most recently it was to pilfer earrings from her foster's jewelry tray and deposit them demurely on the floor. This seems to tie in with her penchant for batting things around, especially her foster's hoop earrings. While they're still on her ears.

Snuggling-wise, Camille will head straight for her foster's lap as soon as she sits down, or as soon as she falls asleep. She tolerates petting only occasionally, but will probably relent as she grows accustomed to it.

Wary of the other cats in the house, Camille hisses and gets defensive if they bully her. (Well, duh!) And while she is careful around the dog, she's neither defensive nor aggressive towards him unless he accidentally invades her space. One hiss will usually do the trick.

If you currently have a cat who's mellow and non-aggressive, Camille is very likely to find a happy home with you. At the same time, she'll also be perfectly content to be on her own, as she pursues the other half of her destiny. Becoming a favorite in domestic society.

All APA! cats are fully vetted, spayed or neutered, and have updated vaccines and a microchip. Lifetime support is offered by our Cat Behavior Team.

For further information, or to meet Camille, please email adopt@austinpetsalive.org.