Lou Lou
| | |
| --- | --- |
| Animal ID: | APA-A-50172 |
| Sex: | F |
| Looks Like: | Domestic Medium Hair |
| Current Weight: | 5 pounds |
| Date of Birth: | 2017-03-21 |
| Age: | 5 months |
| Location: | Foster Home |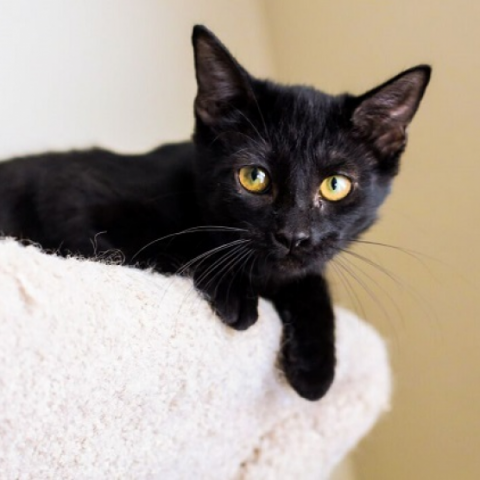 ---
---
Sweet, affectionate, playful

We'd like you to meet LouLou (yes, she prefers the French spelling). After being rescued from a feral colony, she soon discovered there's really something to be said for living with humans, even in a household populated by other cats plus two 100-pound dogs-as long as the pooches don't get too friendly and playful-like.

After all, those humans know right away what this long-haired, black-coated temptress likes best, namely being held on her back like a baby and having her belly rubbed. (She doesn't take it as far as actual snuggling or cuddling of course, but, well, it's a start.)

And in a house of her own, LouLou can finally focus on being a cat, running around and playing to her heart's content with those dangly wand toys or tiny stuffed mice she loves to bat and pounce upon.

A fast learner, LouLou quickly figured out what to do with her scratching post and litterbox, and how to speak right up when she craves a bit of attention or some of that nice soft food she craves.

If at all possible, LouLou would love to be adopted with another kitten of the same age. She'd love to have someone to stalk around the house with like a mini-black panther on the prowl: for fun, adventure and a nice, warm spot to curl up and thank their lucky stars they ended up where they did. With a loving family. Like yours?

All APA! cats are fully vetted, spayed or neutered, and have updated vaccines and a microchip. Lifetime support is offered by our Cat Behavior Team.

For further information, or to meet LouLou (and maybe her brother Truffle), please email adopt@austinpetsalive.org.