Praline
| | |
| --- | --- |
| Animal ID: | APA-A-50175 |
| Sex: | F |
| Looks Like: | Domestic Shorthair |
| Current Weight: | 5.56 pounds |
| Date of Birth: | 2017-03-21 |
| Age: | 5 months |
| Location: | Foster Home |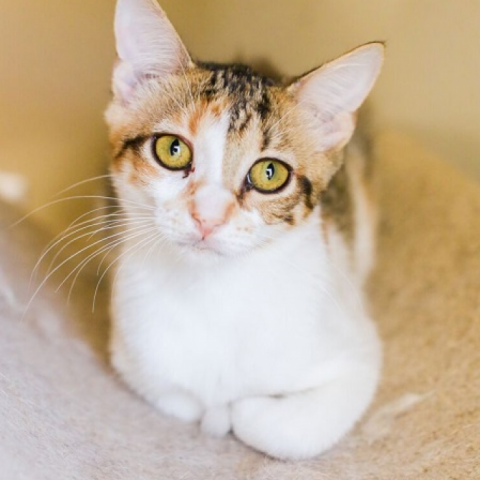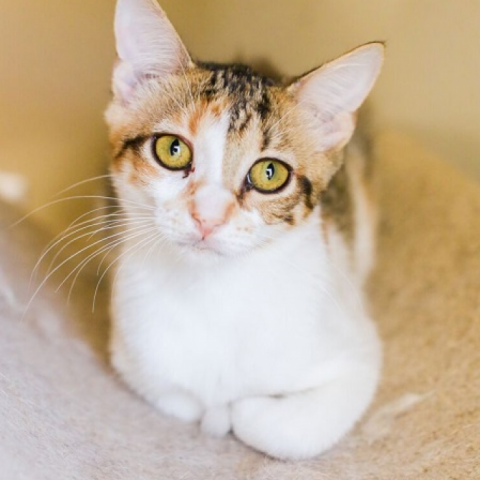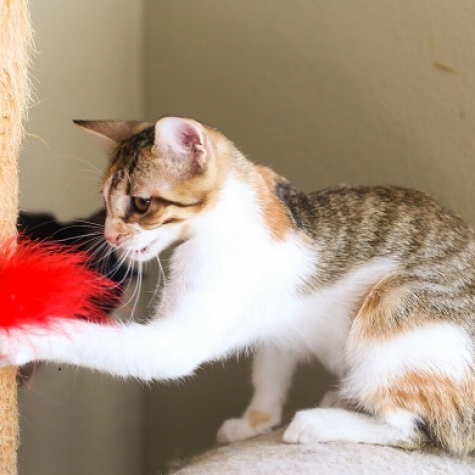 ---
---
Beautiful - Shy - Energetic

As evidenced by her portrait, Praline is a gorgeous white/torbie kitten with beautiful, anime-like golden eyes and a perfect, white-tipped tail. There's way more to Praline than her good looks, though. Formerly feral, Praline was found on the street and raised by a Good Samaritan until she was three months old, at which time she came to APA! She has been living in a pet-filled foster home, where she has developed perfect litter and scratching manners. She's also quiet as a mouse.

Praline gets along very well with other cats, both her own littermates and the resident felines. She loves to play and has a ton of energy, whether she's pouncing on another kitten or batting around her toys. Praline will run around until she's exhausted and ready for a nap.

There are two large resident dogs in Praline's foster home and she will tolerate them, but will run away if either move toward her, so she would prefer a dog-free forever home. She has not met any children, but since she prefers a calm, quiet environment, younger kids would probably not be a great fit. Praline can be shy and will sometimes run when approached, but she does enjoy being petted and scratched (especially under the chin). If you sneak up behind her and start petting, she is perfectly happy to stay in one place and receive affection. Praline also sleeps in her foster mom's bed at night, so it's likely that, in a quieter home with fewer animals, she will continue to come out of her shell. We think the ideal living situation for Praline would be a calm, relaxed household with one other friendly cat and loving and patient humans who want to help her blossom.

All APA! cats are fully vetted, spayed or neutered, and have updated vaccines and a microchip. Lifetime support is offered by our Cat Behavior Team.

For further information or to meet Praline please email adopt@austinpetsalive.org.