Twigs
Animal ID:
APA-A-52916
Adoption Fee:
$50.00
Sex:
F
Looks Like:
Retriever, Golden
Mix
Current Weight:
61.2 pounds
Date of Birth:
2016-09-07
Age:
1 year, 6 months
Location:
In Foster
email


[email protected]


to inquire
Dog Score:
5 - Has lived with dogs successfully. A great candidate to live with other dogs.
Cat Score:
U - No Information Yet
Child Score:
5 - Has lived with children.
Home Alone Score:
5 - Has been left home alone successfully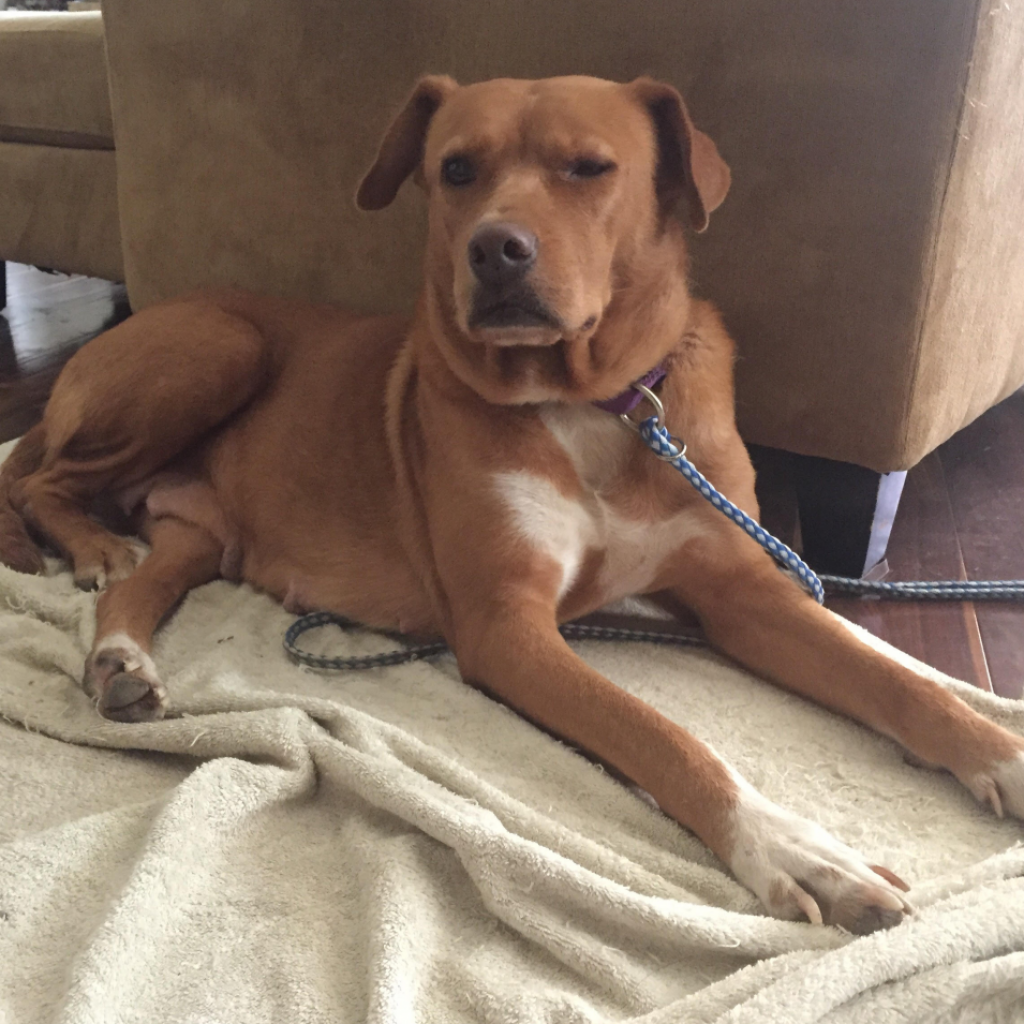 ---
---
Twigs is a beautiful girl that desires love more than anything. This sweet pooch has been through a lot, having recently been rescued in Houston after Hurricane Harvey. She deserves all the love in the world and can't wait to find her perfect family so she can put all her sadness behind her.

We believe Twigs has lived on her own as a stray, and is still learning to adapt to her new life. But she is very comfortable around other dogs, and actually seems to prefer to be in their company. She loves to play and run around the yard playing tug of war with her pooch foster siblings. She is partial to bones and likes de-stuffing any of her stuffed toys. She leaves a funny fluff trail behind her so it's never hard to track her down! Twigs doesn't seem to realize that she can play with people, and is still learning that that is an option. Having other dogs in the home really seems to be key in helping this sweet girl come out of her shell.

Twigs can be shy when she encounters people. Gaining Twigs' trust is an absolutely beautiful and rewarding feat and she so clearly yearns for love, but just doesn't quite understand how to go about accepting those emotions and actions yet. There are days that she will come right up to you and enjoy being pet, and others where she likes to keep her distance.

Day by day, Twigs shows her excitement when her current fosters come home. She watches their every movement, and is incredibly observant when they show affection to her dog siblings. It's obvious that she not only appreciates it, as her tail joyfully wags, but that she gets closer each day to joining the snuggles herself. With a gentle voice, and patience, she will occasionally accept pets on her head, and has even grown to enjoy ear and neck massages! Although proving you're a faithful person to Twigs is a process, once you've gained that trust, you will have a wonderful, loyal companion.

This smart lady does well in her crate, although her current foster says she's well behaved enough that she is able to roam the house while they're gone. They have a doggy door that Twigs picked up on immediately, and she appears to be a very quick learner. She would really benefit from a home with a yard for her to run in and take care of her business, as walks are so foreign to her. She knows her name, and will come when she hears it.

This mellow girl likes to lounge on the couch or her bed. She also can be found basking in the sun outside watching the clouds float by. She seems to appreciate her alone time and getting lost in her thoughts. She has a strong curiosity about the world around her and you really can't help but want her to embrace life and truly excel.

Twigs has had a tough life and deserves to be a welcomed, adored member of a loving home. Her ideal home would definitely have canine siblings that can give her comfort and companionship, and show her that people are there to love and protect her. So come and meet Twigs! She can't wait to show you what an amazing companion she can be!