Biker
Animal ID:
APA-A-55148
Adoption Fee:
$25.00
Sex:
M
Looks Like:
Terrier
Mix
Current Weight:
25 pounds
Date of Birth:
2012-11-19
Age:
5 years, 3 months
Location:
In Foster
email


[email protected]


to inquire
Dog Score:
5 - Has lived with dogs successfully. A great candidate to live with other dogs.
Cat Score:
U - No Information Yet
Child Score:
4 - Has had positive interactions with children.
Home Alone Score:
3 - Has mixed notes about being left home alone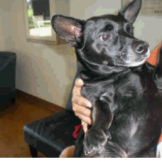 ---
---
Our little Biker is tough as nails on the outside and a big sweetheart on the inside. He knows how to stand up for himself and won't be pushed around by other dogs, but when it comes to his human, he's super affectionate and perfectly content lying on your lap or just being in the same room as you.

Biker is paralyzed from the waist down, but it hasn't slowed him down much at all (he's already a pretty chill dog by nature)! His spirits are still high and he still gets himself around pretty easily. He loves rolling around in the grass, gnawing on leather chews, and trying to get other dogs to play with him.

Biker recognizes "no and "come here and does well in his crate. He's overall pretty quiet, only whining to let you know when he's ready to come inside (though he's able to manage a doggy door on his own).

We'd love to introduce you to this sweet guy and discuss his needs for the perfect forever home! We're sure that once you experience his laid-back attitude, lovely brown eyes and shiny black fur you'll be won over.